Lessons Learned Over Three Fascinating Seasons.
By George Brown, Principal Timpanist
(This is a follow-up article to the original blog post I submitted to the Utah Symphony's Official Website following the new drums' premiere performance in September 2011. That article can be found here)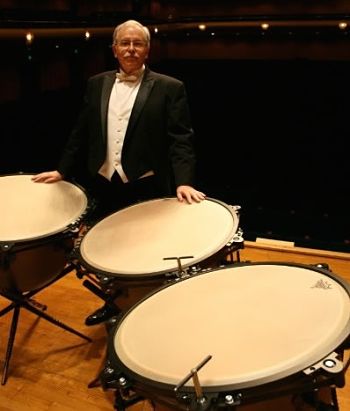 (Photo reproduced here with written permission of Utah Symphony and Opera)
In late June of 2011, I got the call from our Management that the three Lefima Timpani ordered by the Symphony had arrived at Abravanel Hall. Ironically – and somewhat sadly – I was unable to rush downtown to unload these bad boys and start pounding on them. This was owing to upper back surgery I had JUST undergone and I was still waiting to be cleared by my surgeon, not only to play timpani, but simply even to drive.
Understandably, the more my discomfort subsided, the more I was chompin' at the bit to get up close & personal with the Symphony's "new toys." I had taken medical leave for the entirety of the Summer Season to convalesce and prepare to begin the Masterworks Series in September; however, my Doctor had finally cleared me to begin playing in short doses starting late in July. So, in order to begin learning about these drums (while keeping my own playing time to a minimum) I invited a group of my local Percussionist friends to all take part in playing and listening to the Lefimas in Abravanel Hall one weekend afternoon when it was empty, save for a couple of security guards. After a concert the previous evening, the stage hands stayed around a few minutes later than usual and assisted me in re-setting the front of the stage, placing the new timps in a long line with our usual hall drums, our road set and a friends' pair of (newly built) Baroque Era style Timpani.
The following afternoon, members of our group each took turns going up onstage to play on the Lefimas (as well as the other drums) for comparing and contrasting the various qualities of their sounds. As the rest of us listened intently, individuals would call suggestions out to the player such as, "Try playing that again on the new drums but with softer sticks;" or, "Can you darken the sound on the Yamahas to somehow match the Lefimas on that passage?"
We still jokingly refer to our little event that day as The Timpani "Cook-Off," and it proved to be not only a lot of fun, but tremendously helpful and instructive for all of us. Although it went on for over three hours, it allowed me to play in short bursts to begin getting a feel for the drums, while also giving me the benefit of hearing them played out in the hall. And thus began a most fascinating journey that continues to this day.
In his book, Drumming at the Edge of Magic, author and percussion legend Mickey Hart (formerly of the Grateful Dead) states that drums, as well as their sticks and mallets, reveal their secrets to one slowly over time, and our Lefimas are no exception. As mentioned in my original blog post on the Symphony's website, they were purchased to arrive in time for our Beethoven Festival in which we performed all nine of his Symphonies in reverse order, spread over the course of the 2011-2012 Masterworks Season. In fact, someone in our Marketing Department titled my article, "Utah Symphony's New Beethoven Timpani," which, although accurate on one level, was also a highly restrictive description, as I would discover over time.
As I'd also mentioned in the article, these are not bona fide "Period (historically authentic) Instruments" but rather hybrid drums (we'll call them "historically informed"), combining a size and bowl shape common to timpani of the 18th and early 19th centuries, yet with modern day engineering features that make them easier both to play and to maintain. And although, when placing the order, I knew I'd be able to use them on works of the entire Viennese Classical Period (Haydn, Mozart, Beethoven, etc.) and most likely also for the Baroque era (Bach, Handel, and such) to my delight they turned out to be perfectly suited for at least, selected works from the Romantic Era onward. I was astounded, in fact, as to their versatility and was proud to pass along my kudos to the fine folks over at the Lefima factory in Bavaria for their craftsmanship and attention to detail.
For example, the next season we did all of the five Mendelssohn Symphonies and the new drums worked perfectly on them, although recently I discovered I needed my larger hall drums (Mark XIVs made in Denver by the American Drum Company) for Mendelssohn's fuller sounding "Wedding March" from A Midsummer Night's Dream. Similarly, the Lefimas worked beautifully on Brahms' 2nd Symphony, yet the only way I could get them to work on his Symphony #1 was to haul out my largest Yamaha timp (from our road set) to handle a number of the louder low notes. And given the way Brahms continued to develop his use of orchestral sound I don't think I'd attempt to play them on his thicker, more massive 4th Symphony. Still, over the course of almost three seasons, by reverting to the softer felt covered mallets used in the modern orchestra (earlier sticks were normally solid wood or covered by various cured animal skins) I found their sound to be "right in the pocket" for works by Rossini, Weber and Liszt and some others. Interestingly, their usefulness occasionally creeps into, at least, smaller orchestrated 20th century works which the audience will discover next season when I use them on Stravinsky's Danses Concertantes.
The other trick I use – which came from an esteemed colleague who shouted out this idea onto the stage at me at the Timpani Cook Off – is my use in earlier music of these little blue gel pads on the center of the head marketed to drummers with the name of Moon Gels. I think they're the same material used in some shoe inserts. (Do you recall those TV ads where they say: I'm gellin'. Are YOU gellin'?) I occasionally get questions about these little pads from both colleagues and audience members who ask me, "What the HECK are THOSE things?!?" Placing these on the center of the drum heads not only darkens the drums' sound but reduces their volume and resonance a smidge, making them sound even more authentically "historic," and allowing me to blend with the group more effectively when we perform the more sparsely orchestrated works from the 17th through the early 19th centuries. But as we move into larger, more Romanticist works of the mid 19th century, I can remove these gel pads and transition away from the solid wood mallets to those softer felt covered sticks which bring back the drums' full volume and resonance.
So as these Lefimas continue to "reveal their secrets" they also continue to amaze! My Associate Principal Timpanist, Eric Hopkins and I still receive kudos on their sound from audience members, orchestra colleagues, our Conducting Staff, guest conductors, soloists, as well as from members of our Symphony and Opera Choruses. I truly had no idea when we ordered these drums back in February of 2011, that they would impact the sound of the Utah Symphony – literally: from the bottom up – to the extent that they have. Nor would I have anticipated that they would still make me feel like such a "kid in a candy store." But, oh my, they certainly do!