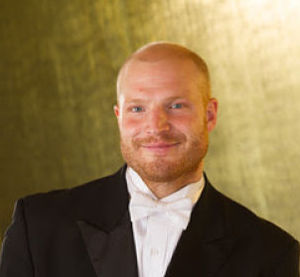 I sat down with Mark Davidson, the newest addition to the Utah Symphony's trombone section, and a formidable human being. Mark is sort of the red-haired version of the Brawny Man, and rumor has it he'll race you to the top of Mt. Olympus. In order to find out how he does it, I had to ask him just the right questions.
Q: Are you a breakfast person?
A: Breakfast is my favorite meal of the day. Free-range eggs with black or refried beans and organic sauteed spinach are my most current option. If I'm not making an effort to avoid sugar, then the list is pretty long. Banana pancakes/waffles, and donuts would easily make the list!
It quickly got serious.
Q: Is music important?
A: Music allows both the listener and/or the creator to express themselves in a way that is profoundly unique to that individual. I find it fascinating how the same composition of music can affect a person's thoughts, feelings, and behaviors in such a variety of ways. And with music being an art where the possibilities are seemingly endless, this is really exciting.
Q: Why is the trombone so gold and shiny?
A: The height of wisdom in civilizations is referred to as the "the golden age," so doesn't it make sense that the trombone is gold? I'm kidding. Actually, the modern-day trombone has many variations depending on one's preferences towards the specific quality of sound they are trying to produce. Gold, yellow, rose, and even red brass are all common bell types that the modern trombonist has to consider. The lacquer gives the trombone a high glossy look and is easy to maintain with a regular polish every so often.
Q: What music would be most improved by the addition of trombone?
A: I had the privilege of substituting the trombone for a cello in a string quartet of Christmas carols last winter at a retirement home here in Salt Lake City. It worked better than you might think. I'm not advocating that the trombone should be a regular component in a string quartet, but I do think of it as an instrument of great versatility! With a variety of different trombone types which include the tenor, bass, alto, contrabass, and even soprano trombone, I believe the trombone to be applicable and appropriate in any setting.
Q: What was the most shocking thing about Utah?
A: How endless the opportunities are for outdoor adventure! Hiking, skiing, fly fishing, snowshoeing, etc… The list keeps growing. Living here has allowed me to expand my outdoor horizons a bit, and it's likely I will add mountain biking and rock climbing to this list next year.
Q: What concert are you particularly looking forward to this fall?
A: Mahler's 2nd Symphony has been one of my favorites for some time now and I'm very excited that the Utah Symphony will be performing it with our music director Thierry Fischer in November.
-Eric Hopkins