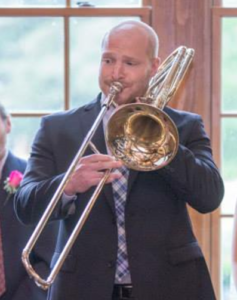 Congratulations to Mark Davidson, our newly-tenured Principal Trombonist!
Mark, how did you choose to play the trombone?
"The two instruments that stood out to me early on in school were trombone and trumpet. My older brother was a talented trumpeter whose sound I greatly admired. Also, I often listened to a close friend and neighbor practice his trombone. I had the opportunity of seeing this friend perform an impressive trombone solo at a half time performance. Choosing an instrument in the brass family seemed natural, and my parents and teacher preferred that I select a different instrument than my brother Daniel. Overall, I grew up in a neighborhood with a large percentage of band members. I was very impressed with their self discipline of practicing and their enthusiasm toward band events. Concert/jazz band soon became my favorite classes."
Were there any other musicians in your family?
"My mother was a violinist when she was growing up. She has perfect pitch. I've always had great respect for her ears. She was often present when I practiced so I frequently asked her what she thought and I respected her opinion. My father took piano lessons in early childhood and has always had an appreciation for music and art as well."
How did your upbringing and family influence you?
"Growing up, my parents attended every concert/ performance. I can't think of one time they weren't present. Their presence and love for music were very important to me. They never pressured me to practice and made sure I had the needed tools to keep going. I was always motivated, but the backbone was their support."
Mark joined the Utah Symphony in 2013 as Associate Principal Trombone. A year later, the principal retired, leaving a vacant position. Mark served as Acting Principal for a year, at which point the symphony held an audition.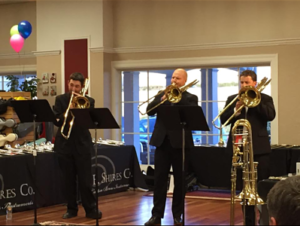 Preparing for an audition is a lot of work along with your full time responsibility in the orchestra. How were you able to balance these demands?
"I looked months ahead and considered if the audition dates would be during a busy time for my current orchestra role. Demanding repertoire included works such as Mahler's 5th Symphony, Ravel's Bolero and Ravel's L'Enfant de Sortilege, among others. It was vital for me to make sure my day-to-day playing in the orchestra and practice at home were both at a level to be competitive in an audition. I spent a lot of time being mindful of the balance between doing my very best every day as well as tweaking the long list of repertoire required for the audition. In addition, I would block out the potential outcomes of the audition. I just focused on the process and did my best to stay out of the way. I felt if I could work my preparation this way, I would be giving it my best shot. In the end, I was ready to accept whatever the outcome was."
Preparing for an orchestral audition is a strenuous, all-encompassing task. Musicians must devote a lot of time and energy to their preparation. Did early training have any impact on your preparation?
"My foundation was formed in formal education received at the University of North Texas and Juilliard. They have two very different but successful systems of educating and mentoring, and that's the backbone of what I come from. Along the way, from my schooling and positions prior to coming to Utah, I have really wanted to step out of my musical box, and I just kept demanding a clearer version of whatever my product was at the time, striving to achieve a higher balance between the musician/technician sides of the instrument. This ultimately led me to seek a variety of approaches and musical experiences. I read and studied Zen in the Art of Archery by Eugen Herrigel, which was a key influence for balance on the instrument and self/general perspective of my overall preparation. I strove to bring a weightless effort to work and my preparation. For this Utah audition, I played for several musical influences I hadn't played for previously, including trombonists, other brass musicians, as well as string and woodwind players. Their feedback was quite beneficial."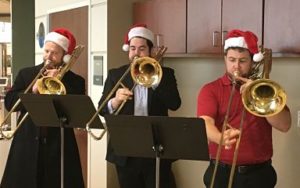 But why audition for another position in the same orchestra? What is the difference between principal, associate principal, or second trombone?
"Every part in the orchestra is equally important, they are just different voices. In general, you could describe a principal part as being a leading voice and a second part as a supportive voice, or leading versus following, or sometimes collectively you're doing both, so there is always a balance between the two. And of course its vital to know which one of these things you're doing."
In addition to playing the trombone, is there anything about living in this part of the country that has influenced you?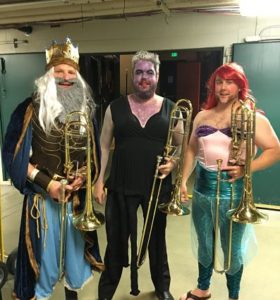 "There's an open world of outdoor activities available here in Utah. Many of our symphony members have inspired and challenged me in so many sport activities whether its hiking, backpacking, skiing, or fishing. This last summer I took an interest in road biking and have been riding with Llew, one of our horn players. Audible communication isn't always necessary, you can learn so much by just the spirit and experience of the rider. And I certainly have! In many ways, these activities are closely related to music and the mindfulness it requires to do either. I prefer to hike and cycle, and would like to try cross country skiing and fly fishing in the near future. As a result of my relationships with others and their inspiration for the outdoors, there is a nice balance between music and connecting with the Utah landscape. That's been really great for me."
– Erin Svoboda