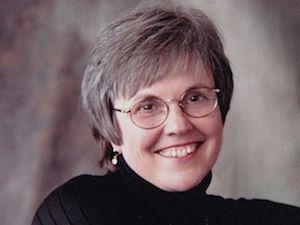 Birthday – August 17, 19?? (sometime after the settlement of Utah)
Hometown – Salt Lake City, Utah
Family Status – My husband, Bruce; 3 Children/Spouses : Scott/Lindsey, Kelli/Rob, Dan/Tara; 8 grandchildren: Jacob, James, Spencer, Samantha, Lucy, Evie, Jack, Audrey
Pets – Love German Shepherds
Education – Evolving
Years served in the Orchestra – 45 years (Really?)
Self-Portrait adjectives – Mom and Grandma
Greatest accomplishment – My Family
Favorite composer – Bach/Mozart/Beethoven
Walter Mitty Fantasy – Living in the Shetland Islands, surrounded by 9 breeds of sheep.
Favorite Movies – "To Kill a Mockingbird"
Favorite Books (or authors) – "To Kill a Mockingbird", "The Book Thief", "King Lear"
Favorite Foods – All food groups, in any combination.
Hobbies – Knitting, Reading, Knitting, Knitting
Bad habit – What could it be? My husband wouldn't answer this question for me. Why not?
Three things always found in your refrigerator – Vanilla Bean Ice Cream, Chocolate Ice Cream, Sea Salt Caramel Ice Cream.
Most influential teacher (in music or any other area) – My High School English teacher who showed me the greatness of the works of Shakespeare.
Professional experience before the orchestra – Adjunct violin instruction at Brigham Young University.
If I didn't play the Violin, I would play – the Piano (so I could play all works for piano by Mozart and Beethoven)
If I weren't a professional musician I would – rather be independently wealthy.
Most memorable moment in the orchestra – The first concerts I played with Maurice Abravanel, performing Mahler's 2nd Symphony. I love this work and was so thrilled to perform with Maestro Abravanel.
What do you want the Community to know about us, or our job? – We, as musicians in the Utah Symphony, are very fortunate to make our living in the world of music. We work very hard to bring great music to our audiences and we appreciate the support which this community brings to our Orchestra.