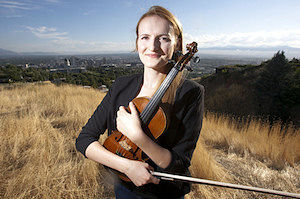 Elina Lev joined the Utah Symphony | Utah Opera last summer, bringing a wealth of experience and expertise with her to Salt Lake. Just after earning her Bachelor of Music degree from Roosevelt University in Chicago, Elina successfully auditioned into the prestigious New World Symphony in Miami, Florida. There she met fellow musicians Claude Halter and Anne Lee before all three ultimately won auditions here with the Utah Symphony. After only a year in Miami, she procured a job with the Charlotte Symphony as associate concertmaster, serving this leadership role for four years before making her transition to the Utah Symphony, one of the few full-time (52-week) orchestras in the United States.
Elina has kept herself busy since moving to Salt Lake. In addition to practicing and performing with the orchestra, she finds time to volunteer at Salt Lake County Animal Services. She is the proud owner of Penny the Dog and Shelly the Cat. Elina and Penny have been undergoing 'therapy dog' training for six months now in order to become certified as a team to support patients at local hospitals and hospices. She strives to participate in the public library's "Read" program, where kids read aloud to dogs– studies show that kids read up to 30% faster when reading to a dog. Elina looks forward to playing more chamber music (especially the Schubert Cello Quintet), enjoying Utah's cultural and natural wonders, and seeing the future of the Utah Symphony.
Elina has recently won an audition for the San Francisco Symphony and will be leaving the Utah Symphony this Fall. She has been a tremendous colleague, both professionally and personally, and will be greatly missed, however we wish her the best in her new position and her future endeavors!