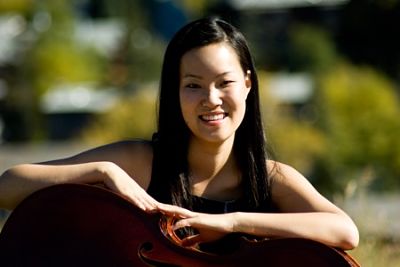 Where are you from and when did you start playing the cello?
My hometown is Calgary, Alberta and I began studying the cello at age 5. My mother went to a cello recital soon after I was born and decided then and there that it was the most beautiful instrument in the world and that I was going to learn how to play.
Who is your favorite cellist?
There are so many, Yo-Yo Ma, Pablo Casals, and Rostropovich, to name a few, but Jacqueline du Pre will always have a special place in my heart. I had a recording of her Elgar concerto growing up that I loved and listened to constantly.
Who are your favorite composers?
Mahler, Bach, Beethoven, Debussy, Brahms, Prokofiev…I can't stop!
What's on your bucket list?
I checked off one item last winter when I skied Baldy chutes at Alta. I had been eyeing it for the last 4 years from the Collins lift and finally summed up all my courage to hike up to the chute. It was exhilarating! I have been slowly checking off hikes in the area and the next Utah bucket list hike is Mt Timpanogos next summer. On my musical bucket list, I have been performing all of Beethoven's piano trios with Vedrana Subotic and my husband Claude Halter over the past 3 years. We are performing the last 3 in April!
What are you most looking forward to this year?
This coming March, 15 Musicians of the Utah Symphony, including myself, will travel to Haiti to work with students for a week at the first ever Haitian National Orchestral Institute. A fellow cellist in the orchestra, John Eckstein, is organizing the entire project and when he asked me if I wanted to come along I immediately said yes. Several friends of mine have done similar volunteer work and outreach in South America and I have always been inspired by their experiences. I have never done anything like this before so I don't really know what to expect. Right now I am feeling apprehensive about what it will be like but I am mostly really excited to meet the students and to share my knowledge and love of the instrument with them.
–Anne Lee